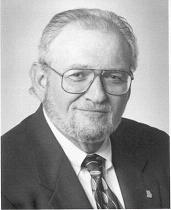 In Memorium:
Howard Herman passed away July 7, 2007 at the age of 70. He is buried at Arlington Memorial Park in Sandy Springs, Georgia.
Howard loved fishing and accounting, and he loved helping people. He was dedicated to helping students advance in the field of accounting and established two committees to assist young accountants and accounting students: The Minority Issues Committee, and The Young CPAs Task Force.
Howard helped to create the Educational Foundation of the Georgia Society of CPAs. You can make a donation to the Educational Foundation in Howard's name.
If you'd like to share your memories of Howard, you can read and sign his online memorium.
Howard Herman, CPA
hherman@hermansilvercpas.com
Position:
Founding Partner
Education:
Bachelor's degree in business administration in 1963 from Georgia State University.
Work Experience:
Howard served the United States Air force from 1955 until 1959. In 1961 he joined the firm of Young, Garber & Company, CPA's, which later merged into what is now Deloitte and Touche. In 1962, Howard joined Sol Spielberg, CPA and formed the partnership of Spielberg & Herman in 1966. After several mergers and relocations, the firm is now known as Herman, Silver & Associates, CPA's LLC.

Howard Herman specialized in individual, corporate and partnership taxation. His experience also included business acquisitions and sales and financing negotiations.
Professional Organizations:
He was active in both the American Institute of Certified Public Accountants and the Georgia Society of Certified Public Accountants. His professional appointments with the AICPA included the AICPA Council (1996-1997 and 1999-2002), and the AICPA Tax Committee (2004-2006). His professional appointments with the Georgia Society Of CPA's included President (1996-1997), Treasurer (1990-1992), Chairman of the Insurance Advisory Committee (1985-1988), Chairman of the Taxation Committee (1981-1982), Director at Large, Educational Foundation Secretary (2000-2001), Educational Foundation Treasurer (1999-2000), Board of Directors (1999-2001), President of the Education Foundation (2002-2003) and Chairman of the Endowment Fund (2003-2005). In 2003, Howard received the Distinguished Member Award from the Georgia Society of CPAs. In 2006, Howard received the Meritorious Service Award from the Georgia Society of CPAs. This is the highest award bestowed by the Society, and was presented in recognition of outstanding service to the profession.
Howard is survived by three sons, three grandsons and a granddaughter.