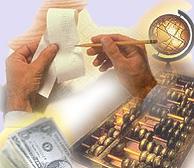 Herman, Silver & Associates Certified Public Accountants has been serving individuals and businesses throughout the metro Atlanta area since 1966. We are a full service accounting firm offering personal and corporate tax preparation, accounting services, payroll tax services, estate tax assistance, retirement plan administration, tax planning,and financial statement audits, reviews and compilations.
We are committed to meeting our clients' needs by offering a broad spectrum of accounting and tax services and to provide our clients with high quality, personalized service in a cost efficient and timely manner. We take great pride in the professional and honest work we do.
Our staff includes four Certified Public Accountants, several bookkeepers and a solid administrative team.
Call us today to see how Herman, Silver & Associates, CPAs can assist you with your accounting and tax preparation needs.
Office: 770-916-9910
Fax: 770-916-9916
E-mail: info@hermansilvercpas.com